TDI on Mikheil Saakashvili's xenophobic statements
The Tolerance and Diversity Institute (TDI) responds to xenophobic statements released by the third president of Georgia, the leader of the "United National Movement", Mikheil Saakashvili.
TDI considers that Saakashvili's statements contain unverified information and stigmatizes people from specific countries and certain economic opportunities.
On September 9, Saakashvili shared a video and spoke about Georgia's migration policy:
"During 2016, 9 700 construction permits and therefore residence permits were issued. Out of these, 20% were employed on low-level construction works, 20% auto-repair and mechanics, 11% as managing directors and at chief executive positions, 7% were employed as drivers. So, this statistics clearly show that jobs for Georgians were taken by poor Iranians, Turkish people and other foreigners. Instead of wealthy investors, who would create jobs for Georgians, we got penniless migrants, who can hardly find jobs even for themselves. In fact, I had been granting citizenship to the citizens of the Republic of Turkey, also in less cases to the citizens of Iran, but 99% of them were ethnic Georgians".
The statistics mentioned in the statement substantially differ from each other, data is chosen selectively and represents false information.
According to the Georgian "Law on Legal Status of Foreigners and Stateless Persons", temporary residence permits in Georgia are issued according to the specific categories[1].
According to the Georgian legislation, building permit is not a legal basis to receive a residence permit. Construction activities might include the component of receiving a residence permit, but to get an investment residence permit, audit assessment on at least 300 000 GEL investment is required. In addition, investment residence permit belongs to the permanent residence category and not to the temporary one.
According to the information obtained by TDI from LEPL Public Services Development Agency, in 2016, 15 510 applicants received temporary residence permits, among them 1,584 applicants were from the Islamic Republic of Iran and  2,230 persons from the Republic of Turkey.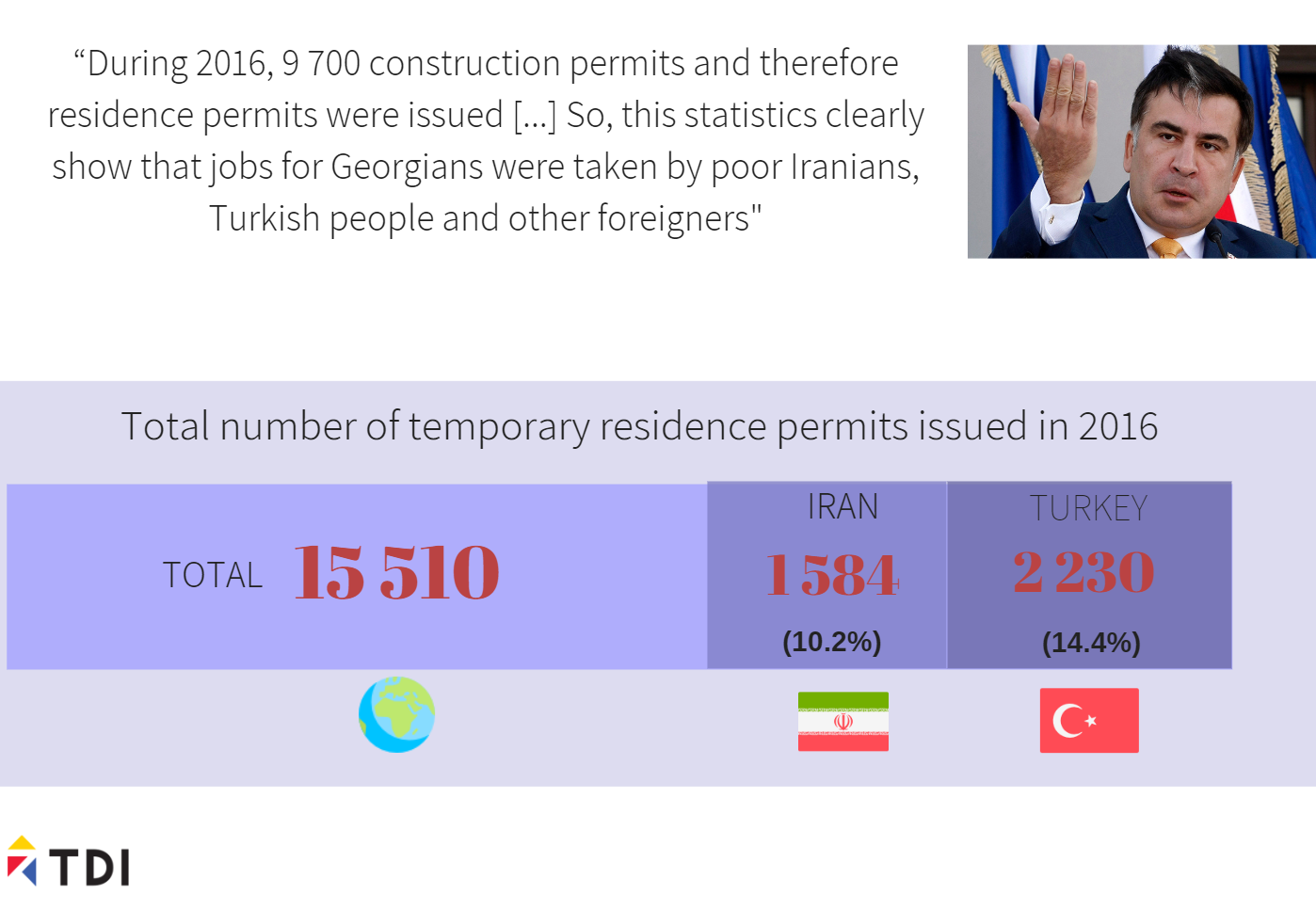 In addition to the above-mentioned statement, Mikheil Saakashvili also made the following comment on September 1: "Margvelashvili [current president of Georgia] took away my citizenship but granted it to 5 000 Iranians. Continue your nation's history…". This information provided by the former president, is also incorrect.
According to the statistical analysis prepared by IDFI, during 2005-2013, 425 Iranian citizens received Georgian citizenships and during 2014-2017, recommendation on granting the Georgian citizenship was given for 228 citizens of Iran, which is only 1% of the total number of people who received the citizenship.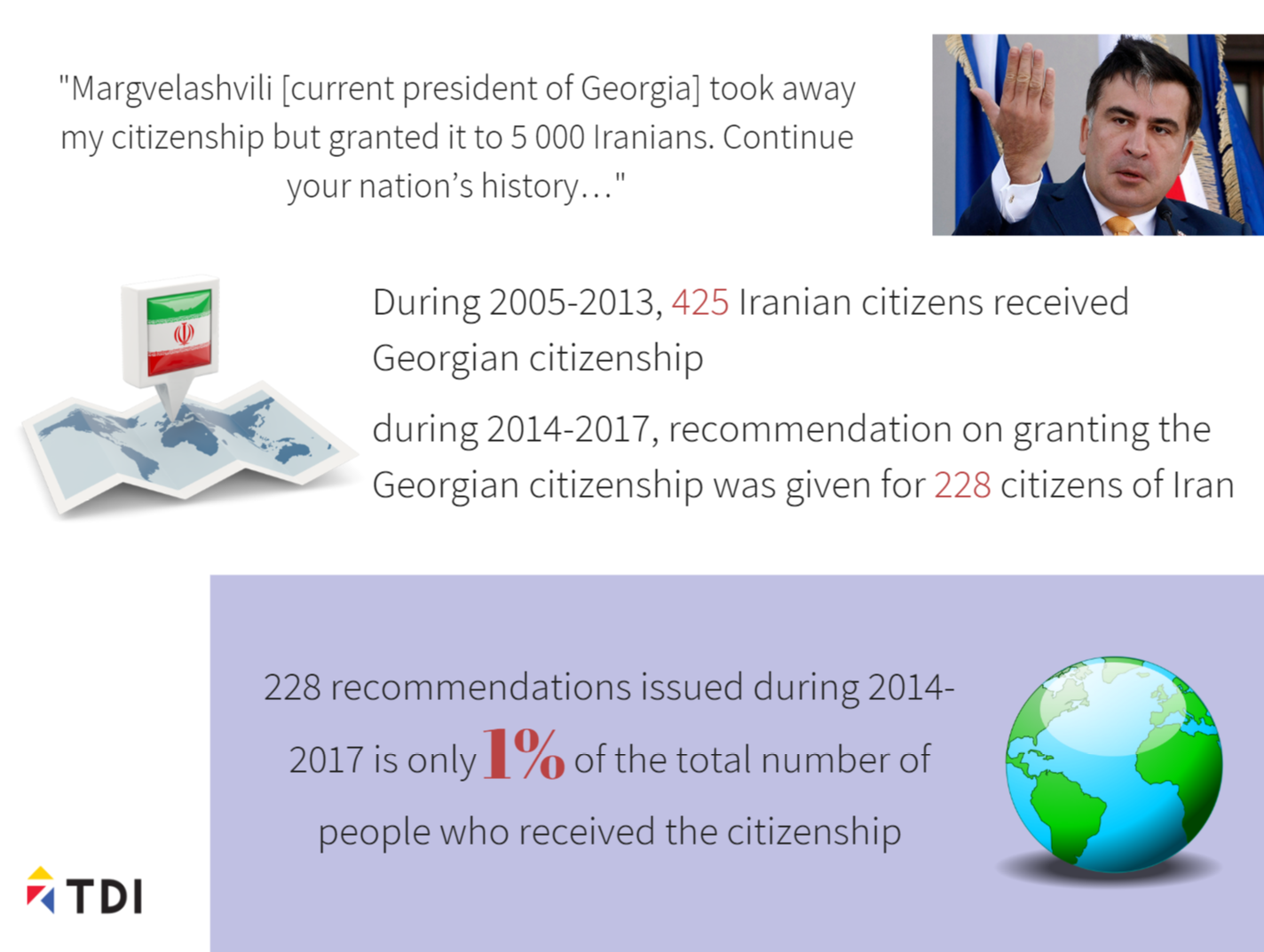 On August 31, in his video address Mikheil Saakashvili stated:
"Today, tourists enter Georgia with their own food, with their cul sprat and sausage. They enter Georgia by car from Russia, Turkey or Iran and practically, do not spend any money in Georgia".
In fact, the total revenue of touristic sector since 2012 has practically been doubled and exceeds $2.7 billion. The share of tourism in the economy of the country has also been raised and reaches 6.9%.
TDI believes, that the recent rhetoric of ex-president Mikheil Saakashvili, who is the leader of one of the strongest opposition coalition, is xenophobic and encourages intolerance against foreigners residing in Georgia. Considering the growing number of different radical, fascist and racist groups, such approach is particularly alarming.
[1]  Work permit is issued for an entrepreneurial or labor-related activities; Study residence permit is issued for the studying activities in an authorized educational institutions in Georgia; Special types of residence permit - permits issued to a foreigner who is a victim of a crime (trafficking) or a permit, issued while the applicant is granted with the status of a victim according to the "Law of Georgia on Elimination of Domestic Violence, Protection and Support of Victims of Domestic Violence"; A residence permit issued for the purpose of reuniting the family granted to the family member of the foreigner; Residence permit issued for former citizens of Georgia and to stateless persons whose stateless status was identified in Georgia; A short-term residence permit issued to a foreigner, who has property in Georgia according to the Georgian legislation.